Our DRTV success stories are legendary.
Schulberg MediaWorks DRTV campaigns have catapulted new products and existing brands into the marketplace and have made millions of dollars for our clients.
The upside of the DRTV business can be tremendous, but it's not as easy as it looks. The creative strategy has to be on target, and the right marketing decisions must be made from launch through rollout. Here are some SMW case studies to prove this point.
Case Study: NO!NO! Hair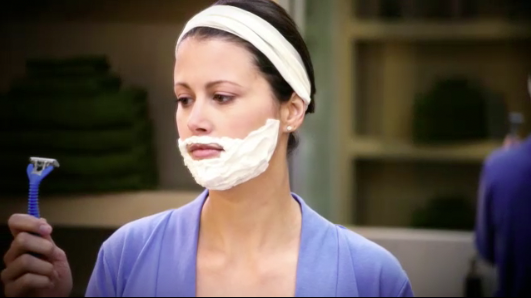 The Challenge: It's a classic DRTV story.
Read More
A virtually unknown company, Radiancy, the makers of the no!no! at-home hair removal device, hires a well established production company in the infomercial business. Despite a significant budget, the DRTV campaign fails miserably.
Before scrapping the project once and for all, the CEO of the company invites Jon Schulberg to offer his critique and recommendations.
The Recommendation: Jon and the team at SMW developed a totally fresh creative approach.
Read More
With a new product positioning framed around how no!no! addresses the problem of unwanted hair all over the body, especially the face.
The "look and feel" of the advertising was given a totally different look and feel. The creative approach included a multi-camera roundtable discussion with happy customers representing different cohort groups as well first timer impressions filmed at a mall. Interviews with credible dermatologists, A list make- up artists and leading beauty editors were tied together with high end graphics, animation and stylized b-roll to make a fast paced and compelling infomercial.
In addition, SMW created a new value proposition for a bundled product offer along with an entirely new and innovative way to frame a risk free trial.  
The Results: The SMW created DRTV campaign was a runaway success.
Read More
In the first 12 months, sales exceeded $70 million and today annual sales exceed $200 million dollars. This meteoric success lead to the company going public in 2012 (NASDAQ:PHMD).
For the past 5 years, infomercials for no!no! have consistently been ranked in the top 10 ranking of all US DRTV campaigns. Infomercials have been customized for distribution in Japan, Germany and the UK.
Having gained Radiancy a dominant stake in the hair removal market via long form media, SMW further expanded the no!no! brand in 2013/2014 through targeted short form advertising that not only shattered industry expectation of whether high ticket items could succeed in short form, but broadened its reach to both a younger female and, for the first time, a male audience, resulting in a significant increase in YOY direct sales.
Today no!no! is the number one selling hair removal device in the world with distribution in 55 countries. In 2014, SMW's commercial, "The no!no! Wow Factor" was honored with the Best Short Form Spot of the Year award as voted by the Electronic Retailing Association. SMW now produces DRTV campaigns for a total of 6 brands for the parent company.
Case Study: Tempur-Pedic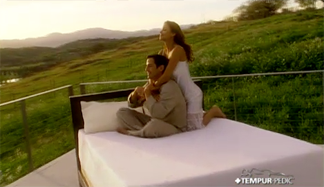 Our infomercial for this bed maker reduced their customer acquisition cost by over 75%. Short form TV spots outperformed print and radio ads. Their video brochure produced by SMW quadrupled their conversion rate
The Challenge: How do you sell an unknown $2000 bed direct to the consumer?
Read More
Back in 2001, Tempur-Pedic Founder and CEO Bob Trussel was stymied in his efforts to sell his innovative new line of mattresses drawing on a proprietary Memory Foam originally developed by NASA.  Retail sales were non existent and the company was having a difficult time explaining the key features and benefits of the brand via traditional print, radio and TV ads.   Experts in the bedding industry said it was impossible to sell a $2000 bed direct to the consumer.  Undaunted, Bob Trussel felt that an infomercial might be the answer and he turned to SMW for this "do or die" assignment.
The Recommendation: An infomercial with a Wine Glass Demo and a Video Brochure.
Read More
Working with top management, SMW developed a two step sales strategy involving the production of an infomercial to generate cost effective leads and a follow on video brochure to close the sale. The infomercial featured high end production values, testimonials from customers and scientists, NASA footage and animation to show and tell how Tempur-Pedic delivers a totally different sleep experience. To demonstrate how the mattress does not transfer motion when a person gets in or out of bed, Jon Schulberg came up with the idea of placing a glass of red wine on the mattress and then have a person jump up and down to show how the glass does not spill.  
The Results: Company Goes Public. Current Market Cap is $2.7 Billion.
Read More
The SMW produced Tempur-Pedic infomercial was an overnight success. Phone call inquiries increased by 300% and the video brochure conversion rate quadrupled.  2002 annual sales jumped to $150 million. DRTV became the cornerstone of the Tempur-Pedic brand with SMW producing an ongoing series of new infomercials, video brochures and short form spots. Within 6 years sales had exceeded $1 billion and the company went public. Tempur-Pedic recently acquired Sealy, one of their leading competitors. The iconic wine glass demo was even replicated by Jim Carey (a Tempur-Pedic owner himself) in the Hollywood movie, Yes Man. Tempur-Pedic's current market cap is $2.7 billion and is now the largest bedding provider in the world.
Case Study: NuWave Cooktop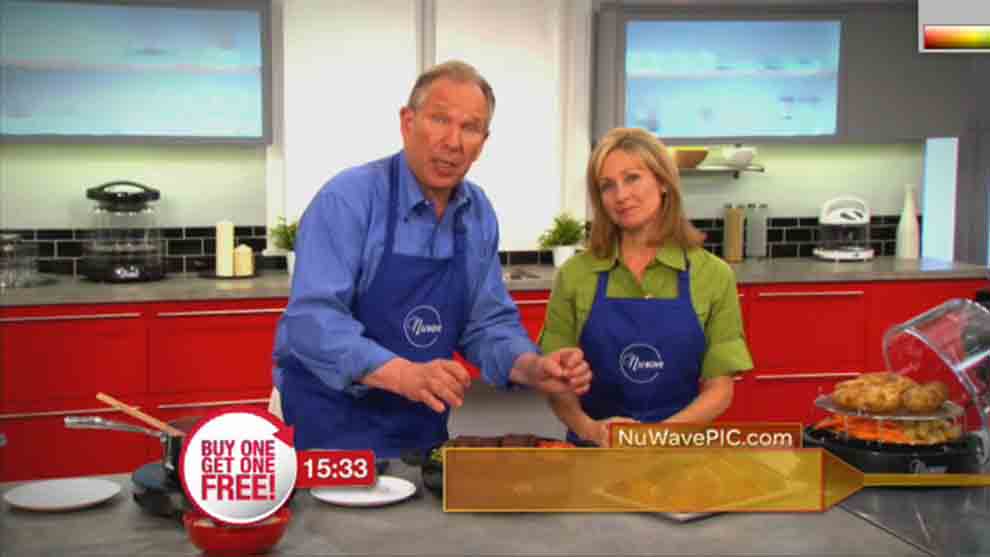 This innovative cooktop design had already launched a year before coming to SMW, to disappointing results. Within the first three months of testing a new show produced by SMW, the NuWave Cooktop reached the top of the charts.
The Challenge: What do you do when you know you have a great quality product to sell in DR that just doesn't seem to be generating its due response? You find ways to better "show" the value.
Read More
Housewares giant Hearthware spent hundreds of thousands of dollars launching its revolutionary NuWave Precision Induction Cooktop (NuWave PIC) via DRTV to dismal results. Somehow despite its high production value, their initial long form infomercial failed to communicate the exceptional value of the device. Hearthware turned to SMW hoping that somehow we could transform failure into success.
The Recommendation: Total Overhaul of Product Positioning and New Creative Approach.
Read More
To drive home its revolutionary uniqueness relative to competitive cooking methods, SMW developed a series of attention-getting demos: time-lapse video to prove consistency of temperature over time, infra-red footage to prove superior heat concentration, and best of all a dramatic sequence of putting a hand on the cooking surface, while a pot of water boils to showcase the safety and novelty of the induction innovation. Interviews with well-known chefs and a series of first timer testimonials filmed at a farmer's market rounded out the creative approach.
The Results: The result has proven to be one of the greatest DRTV successes of the year—not only in the housewares category but across all markets. Consumer response to the new SMW infomercial exceeded Hearthware's wildest expectations.
Read More
SMW helped deliver the response needed to scale the media buy to frequently rank #1 and #2 in the IMS charts and consistently rank in the top 5. This increased brand awareness not only helped drive PIC traffic; it helped drive up sales for all NuWave branded Hearthware products. Based on the enormous success of the long form infromeercial, SMW was commissions to produce a package of short form spots including an innovative 5 minute commercial which is currently breaking industry spend and sales records.